Brunson's Pub
956 Payne Ave • St Paul, MN 55130
US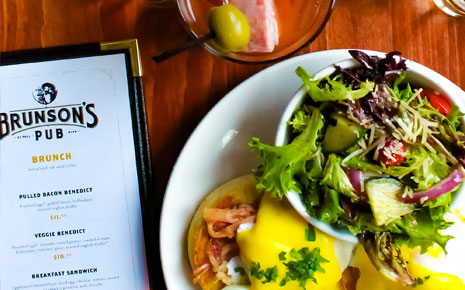 Brunson's Pub is the neighborhood gathering place for all to enjoy thoughtful food and drink. The atmosphere will bring you back in time to when Payne Avenue was the place to be. This area was built on hard work, and at Brunson's we pay that homage – working hard every day to serve you.
Benjamin Brunson was an original land surveyor of St. Paul. He built and lived in a house which is believed to be the oldest standing brick house in St. Paul, specifically Railroad Island. Brunson's house is about 1 mile away from the Pub; it is easy to imagine he spent a fair amount of his free time on Payne Ave. Wanting to give the pub a name that reflects the neighborhood's history – Brunson's Pub was born.
Thomas LaFleche had a dream: To create a place for people to come together to enjoy excellent food, drink, and people. After working in the industry for 26 years – that dream has come true as Brunson's Pub.
Molly and Thomas met while working together in the industry in 2003 and started planning their dreams together. Both having that entrepreneurial bug, Molly started her business while Thomas continued to practice the craft of bartending and managing. When the time was right, they started looking at properties and if something was ever meant to be, it was Schwietz's. Molly and her family grew up on Payne & Jessamine and were family friends with the Schwietz's. The moment they stepped in the door, they knew it was the one.