Hillcrest Evolving - The Heights Update
ESABA Chimes in - See our letter of support and the Next Steps we propose including:
The Saint Paul Port Authority needs the ability to access other city funds including Tax Increment Financing (TIF) for infrastructure to really deliver what the East Side deserves
The City's Housing and Redevelopment Authority should step up as Master Developer of the Housing
This development gives us the City a chance to work with us to improve roads, library, schools, rec centers, and shopping centers to get ready for a whole new neighborhood!
The Master Plan Slides and Rendering for a quick update.
A little more context and detail:
The Heights is the new name of the Hillcrest development. On May 5 ESABA hosted a meeting to learn more about the Master Plan that is headed to the City Council for consideration on May 25th. the Master Planning process involved 18 months of listening sessions and feedback and some significant back and forth about features on the site.
Many positives for the East Side are possible here and included in the proposed Master Plan:
1000 Jobs in Light Industrial complex (an emphasis on jobs for good wages for East Siders)
1000 Housing units (an emphasis on affordable housing)
5 acre park
15 acres of connections to existing and improved trails
A plan to create a Carbon Neutral housing and job community
There is much yet to be done. In the process of hearing the Master Plan it is likely the City Council will hear community members check in about the mix of affordable housing, the amount of space committed to light industrial versus other uses, and concerns about how the development will impact roads and integrate into the community, as well as the workforce aggreements to employ East Siders and do so at higher wages. One concern for ESABA could be the amount of retail in the development, the space use for other types of businesses to scale up - smaller businesses - besides the majority use for the larger scales that use light industrial.
One primary concern emerging is about the role the city should take to make sure this development is successful. At our meeting it was suggested that the City get more involved in the Housing Development, that TIF resources that have been excluded from the deal so far, be reconsidered (because not considering them is a significant disadvantage to the East Side), and that we start now to really work to get the City, and County, and other entities to focus on community that will be impacted by the development. See District 2's Statement below:
"On behalf of the Greater East Side /District 2 board, we are very excited for the Heights development to come to our neighborhood. Ours, like the other four neighborhoods on the East Side of St Paul have been suffering from a lack of investment for decades. We are hoping that by shining a light on our neighborhood through this development, it is also bringing to light the desperate needs of our infrastructure and amenities. Our library, rec centers, shopping center and roads have been suffering condemnation by neglect for too long…amenities that are not adequately serving our neighborhood today.
We don't know what the finished product of the development will be, how it will look or when it will be complete. It is important for us right now to work with our neighborhood partners to prepare our neighborhood. Regardless of the answers to those lingering questions, the Heights will have a huge impact on our neighborhood and the entire East Side. We hope with the help of ESABA, ESNDC, WBABA and others that we can draw attention and bring investment to the neighborhood specifically to raise up the needs of our amenities so that we can be prepared for whatever happens at the Heights."
Other resources:
More Topics
A special thanks to State Farm Insurance Good Neighbor Program for their support for outreach to businesses. We met 10 new minority ownerd businesses on Arcade and E 7th Street in this work. Construction of the road and sidewalk for the East 7th Street and Arcade Street project would start in...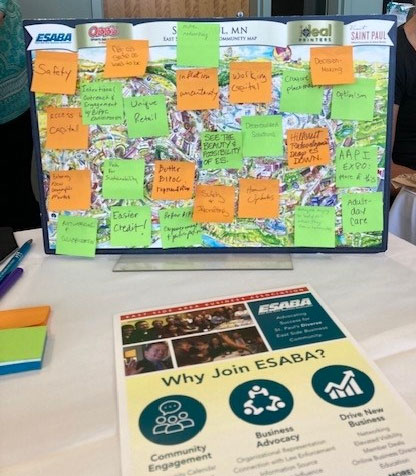 "What's getting you up in the morning and into your business... and wha'ts keeping you up at night?" And what are you hearing in your business network from fellow businesses? We asked each visitor to our table these questions and recorded concerns and interests - Green for energizing ideas; Orange...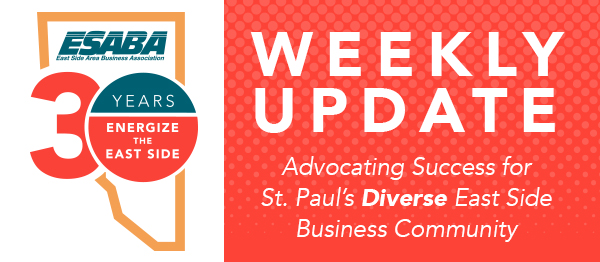 Click here to view this week's news!